Learn Self Defense and Get In Amazing Shape! May Specials! Krav Maga Classes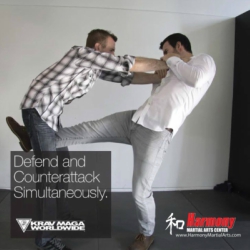 The Harmony Martial Arts Center is only officially sanctioned, authentic Krav Maga in Jupiter or Palm Beach Gardens. Classes are lead by the only Krav Maga World Wide certified Black Belt teaching in Palm Beach County.
Krav Maga is the official hand-to-hand combat system of the Israeli Defense Forces. It's also the preferred system for U.S. Military and law enforcement personnel.
Harmony Martial Arts Center's Krav Maga Classes are not a traditional martial art. No kata. No rituals. No traditional uniforms. Instead, Krav Maga training focuses on teaching simple self-defense techniques which are specifically catered to reality based attack situations.
Get Fit And Go Home Safe With Krav Maga Classes In Jupiter!
Based on simple principles and instinctive movements, this reality-based system is designed to teach real self defense in the shortest possible time. Learn to defend against common chokes, grabs, and bearhugs, as well as weapons such as guns, knives, and sticks. Just as important, we teach people to function during the stress an shock of a sudden, violent encounter. Tested on the battlefield, and in the streets, Krav Maga's practical approach to self defense will make you safer and more secure.
Harmony Martial Arts Center's Krav Maga classes will not only challenge students physically, but will also instill special mental discipline meant to strengthen the spirit and develop the ability to deal with violent confrontations under intense stress.
Enroll Today!
To learn more about Harmony Martial Arts Center's Krav Maga program take a second to fill out the sign up box to receive all the information you need to get signed up today!
Benefits of Adult Krav Maga
Learn Effective Krav Maga & Self Defense Techniques
Improved Health & Fitness
Improved Discipline & Self-Control
Increased Endurance & Stamina